History of FloofyArts:
FloofyArts is a mother-daughter business that was created in 2014 to sell our Disney inspired Paintings. After about a year of painting, Chloe brought up the idea to Kim about doing Full Floral Ears because Disney didn't sell Floral Ears and the ears they did sell were uncomfortable. After a few months of creating full florals, FloofyArts expanded to making Fabric ears.
On a trip to the craft store, we saw these vines and thought how perfect these would be for a
pair
of ears. Next thing you know we are
designing
Vine ears. After a month or so of debating we decided we wanted to add wire ears onto our shop.
FloofyArts was created as a way to share our creations and our love for Disney around the world. We wanted to create a product that would add extra magic to your trip, that is comfortable to wear all day, and a product that is stylish.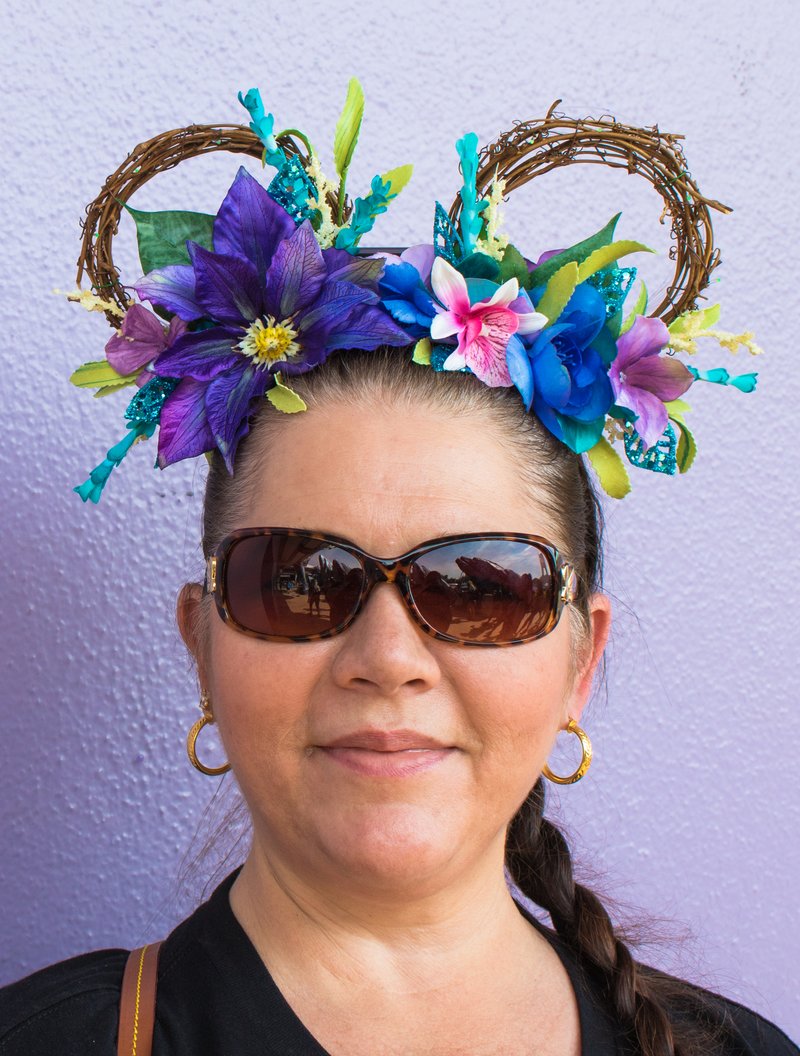 When Kim graduated High School she decided to work at her Nana's Floral Shop in Louisiana. After twenty years of being a florist she left the job and became a stay at home mom of 2. Being a stay at home mom, she encouraged Brad and Chloe to use their creative side. After being home for a few months, she decided to create a online store called Rosesrkim. Selling mainly wedding bouquets and flower decor has given her a lot of experience when dealing with flowers. If you pointed to a flower somewhere, 99% of the time she knows what it is.
Chloe's first trip to Disney World was when she was about 2 years old. She has been going to Disney World for the past 16 years and continues loving it more and more with each vacation she takes. When Chloe was 14 years old she wanted a way to talk to other Disney fans from around the world and share some Disney Magic, so she made her first social media account,
Just_DisneyThings
. With Social Media playing a big part in her life, it inspired her to create her own Disney business,
FloofyArts.com
. She later created her other accounts;
DisneyWorldSounds
,
thedisneyworldaily
, and
TheDisneyTeenBlog
. Wanting to write she also created her own
Disney Inspired Blog
where she shares her opinions, reviews, experiences and Disney news. Being 17 years old, she hopes to one day work for the mouse.
What is your favorite park?
Kim - Magic Kingdom
Chloe - Animal Kingdom
Kim - Chef Mickey's
Chloe - Ohana's, Be Our Guest, or Tusker House
Top 5 Favorite Disney Movies?
Kim - The Nightmare Before Christmas, The Lion King, The Little Mermaid, Moana, and Tarzan
Chloe - Tangled, Atlantis, Oliver and Company, The Lion King, and Moana
***This was the hardest question ever***
Kim - Ice Cream
Chloe - Dole Whips!